Purchasing a gun safe and accessories for the gun safe are wise investments that will provide you and your family with safety and security. Whether you own one firearm or a number of different guns you will want to secure your belongings with the easy-to-use, made-in-U.S.A. gun safes that we carry in stock.
The gun safes we recommend to our customers offer maximum fire safety, come in various sizes to meet your needs, and can cost as little as $50. The brands we recommend are manufactured by Fort Knox, Hornady, and Gun Vault.
Fort Knox Gun Vaults
We carry the Fort Knox Maverick Series on display in the store. Stop in to see how the design standards of the Maverick are equivalent to most of the other manufactures upper end products.
Are Your Guns Fort Knox Safe?
We are the only exclusive dealer of Fort Knox gun safes and gun vaults between the Oregon border, San Francisco and Sacramento. Watch this video to understand why we choose to be an exclusive Fort Knox dealer.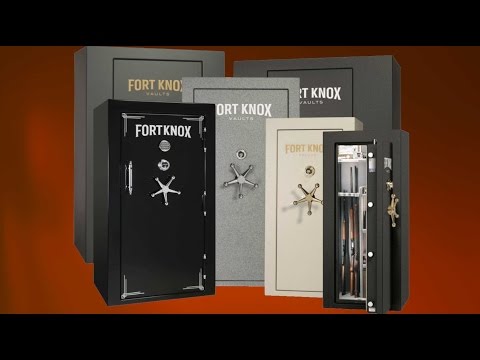 Rifle Safes
The long gun safes (also called rifle safes) that we carry from Fort Knox include the Guardian and Titan brands. They look similar to cabinets and come in different colors, including a new "red wine" and a green color. They offer fire-resistant protection that includes materials such as fireboards or other insulation materials. This type of safe can also protect your guns from unauthorized  individuals or theft, depending on the features you select for it, such as mechanical locks. Note: We do not stock Guardian and Titan rifle safes, though we are happy to order them for you.

Handgun Safes
We also carry handgun and personal safes to keep small firearms as well as other valuables safe and secure from fire or theft. These safes are sturdy and reliable and can slide under a bed or fit discreetly in many small spaces. A small safe we recommend is made by Gun Vault. It comes in three sizes and travels well in your suitcase, or to use in a hotel.
Plan Ahead if You Plan to Grow Your Gun Collection
We also typically recommend that customers who are making their first gun purchase, or who have a small gun collection currently, purchase a larger safe than they might need at that moment. We have found that our customers generally add to their gun collections over time, both in the size of their guns and in the number of guns in the collection. This collector aspect to gun ownership is why we always ask customers to consider a gun safe that will hold more than their current collection. We also recommend gun safes for collectors of antique and curio guns and other weapons, which are highly sought after and thus a source for theft.
We want you to consider purchasing a gun safe for your firearms and we've put together a blog on What to Look for in a Gun Safe to help you with your buying decision.
To learn more about our gun vault brands and accessories, please call us at 707-545-8826.